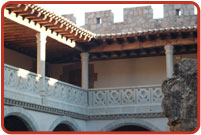 Apparently, the current location of Adrada, was originally a Moorish fortress in turn built on a former village of Roman origin. On 1098 the king Alfonso VI did to bring his future wife Zaida to Castle Adrada where Prince Sancho was born. But the first mention of the city of La Adrada on record dating back to 1274. In 1395 King Henry III granted the title Aching town to town, granting it to Constable Ruy Lopez Davalos. This gave the order to raise the castle which currently chairs the village.
In the following centuries the town of La Adrada will be changing owners with classical wars between noblemen belong to that time.
A few years after the Marques de Villena wanted to take the properties of the countess getting married with his daughter Mary. His daugther didn´t like so much that situation and Mary marries with a grandson of the Marquis of Santillana. This was not enough because in 1461 Henry IV took away all their possessions, but the Countess rebeled. As expected she was defeated and her granddaughter who ended up marrying the son of the Marquis of Villena, which keep the Castle
Arenas but losed Adrada passing hands of Don Beltran de la Cueva whose successors remained the Castle during the sixteenth century. Even the second son of Don Beltrán became to the first Marquis of Adrada.

In the seventeenth century the castle had a new owner, Montijo Family that will keep until it passes into the hands of the House of Alba in the mid-nineteenth century. About the twentieth century the castle passed through several private hands to end up being owned by the City of La Adrada who restored it for finishing the construction to be able visited in 2003.
As far as recent times are concerned, the village, in recent decades ,has been restored its flagship (Hermitage, Church of the Saviour, …) and it has been recovering old infrastructure for the benefit of its inhabitants and the natural dam, old hiking trails, etc. keeping the traditional image and spirit of a people that exemplifies buildings Tiétar Valley.